About Us
"At Intertwined, we strive to elevate the brilliance of your love through an exquisite event that showcases your style. Let us handle
the planning, so you can enjoy the moment you become 'intertwined.'
The ladies of Intertwined combine years of experience and a unique creative savvy to plan your dream wedding with a client support team to serve you. Our constant monitoring of the newest trends, resourcefulness, insistence on a customized experience and positive personalities allow couples to rest assured their day is in the best hands."
Get to know us! Click on each of our names to read more about who we are and what we love!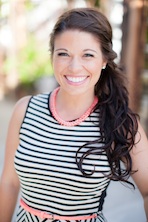 I love cookie dough more than I love cookies. I would wear my yoga clothes all day long if it was possible. I have a passion for the details, a love of bold colors and dramatic textures, and knowledge of the latest and greatest trends; and let's face it, I am obsessed with weddings!
I am a Certified Meeting Planner (CMP), receiving a Bachelor's degree in Hospitality and Tourism Management, with an emphasis in Event Management from San Diego State University. Post graduate, I have held a position as a Meeting Coordinator planning events for three Fortune 500 companies.
Today, I surround myself with wedding details and couldn't be more passionate about my job, and more importantly, my clients. I've planned dozens of weddings all over Southern California ranging from 30 guests to 350 and love seeing the unique qualities of each one.
I am THE Italian gal –love to cook it, eat it, go to it, and one day, swear, will learn how to speak it! If you come to my house I will force you to eat too much and have a good glass of wine. And, I am a sports fanatic! Trust me, this lil' lady knows her stuff!
I live for the moment the doors swing open as the event begins and I see that expression of joy, excitement and wonderment on the faces of our clients and their guests! I specialize in creating one-of-a-kind celebrations from birthday bashes and movie premiers to nonprofit fundraisers and fashion shows! My spare time belongs to ReCreation, a series of programs and camps for adults and children with disabilities that Katie and I donate our time to direct!
Previously, I worked as a Social Media Consultant for major consumer brands creating and executing nationally recognized promotional campaigns. I began my career as an Event Planner for California's 10th largest city, Anaheim, after receiving a B.A. in Public Relations from the University of Southern California.
I believe every situation is made better by blasting some music and dancing it out! Sunglasses are my must-have accessory, so chic!. Sunglasses and nail polish can pull together and polish up any look. I love design in all its forms! From styling an outfit to the interior of a home to the unique décor of a wedding celebration, the details are where its at – and where I'm at!
With an extensive background in event production, design, and fashion, I have an absolute passion for creating spectacular events that are not just amazing parties but really are once in a lifetime moments! My main objective is to take the stress and pressure off my clients while bringing their biggest dreams to life!
I began my career in Real Estate serving the LA and OC coastal areas after graduating from Cal State Northridge with a degree in psychology. I love to travel, cheer on my favorite sports teams (Go Chargers!), discount shop for steals and hang at the beach with my husband and adorable fluff-ball, Lola.
I think every day is a new reason to sparkle. Each day brings new opportunities to embrace the present and be inspired! I believe that all I do has a purpose and love to spend the time and effort to make sure it's perfect!
I adore all things social…social people, social events, and social media! Socializing, online and off, is where I find inspiration and motivation. I am known for having everything personalized – no event, handbag or beach towel will get passed me! There isn't a to-do list I don't love – organization is my middle name! I am obsessed with my puppy, treasure my fiancé, and much to the enjoyment of the ladies at Intertwined, I bake, often!
I graduated from the University of Nevada, Las Vegas with a BA in Journalism and Media Studies, specializing in Advertising and PR. Before working at Intertwined, I worked for Marriott International in Social Media and at a prominent law firm in Las Vegas.